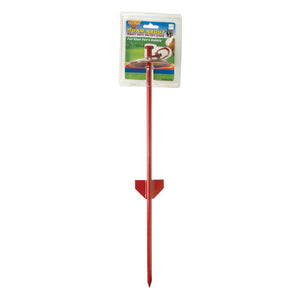 Four Paws® Walk-About® Tie-Out Stake
Made of heavy-duty steel, the Walk-About Tie-Out Stake provides dogs a safe and secure way to move around the yard without escaping. This rust-resistant dog tie-out stake stands up to wear and will stay firmly in the ground while your furry friend enjoys their time outside.
Caution: The security/effectiveness of this product will depend on the material into which it is embedded. Loose soil, or soft, dry or rotting wood, for example, may not provide for a secure installation. Be forewarned that a strong or determined animal may still be capable of pulling itself free from this product, as with all such similar devices.
The Walk-About Tie-Out Stake is made of heavy-duty steel
Helps keep dogs secure while giving them room to roam
Prevents dogs from escaping the yard
Rust resistant
Dog tie-out stake holds firm in the ground
Simple to use
---
We Also Recommend