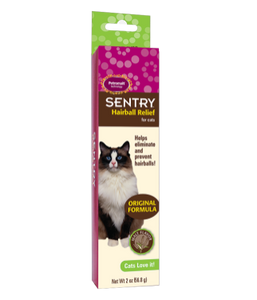 SENTRY Hairball Relief
The original formula that cats love! Your cat will love the tasty, savory taste…you'll love living in a world without hairballs!
SENTRY Hairball Relief helps relieve the constipation, dry cough and the occasional vomiting associated with hairballs. This product uses Petromalt technology, and is an intestinal lubricant that helps prevent the formation of hairballs and eases the passage of hair that is ingested. It is safe and effective for cats and kittens over 4 weeks of age.
A longtime favorite with Petromalt technology
Helps eliminate and prevent hairballs
Relives the constipation, dry cough and occasional vomiting associated with hairballs
Malt flavor
For cats and kittens over 4 weeks
---
We Also Recommend