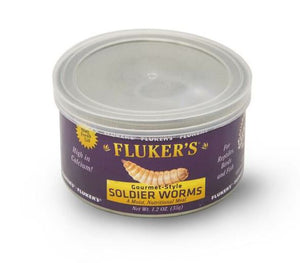 Fluker's Gourmet Canned Soldier Worms
Gourmet-Style Canned Soldier Worms
Moist, all-natural meal with stay-fresh lid
Convenient, nutritious, and delicious
Ideal for reptiles, birds, tropical fish
DESCRIPTION
Our gourmet-style foods were created to satisfy both your pet's nutritional needs and delicate palate. Give your pet a delicious and nutritious meal without the hassle of live prey. Sustainably produced and naturally high in both calcium and protein, soldier worms make a great supplemental feeder for your pet.
Not for human consumption.
FEEDING INSTRUCTIONS
May be fed daily to insects-eating reptiles, birds, or tropical fish. Feeding amount will vary depending on your specific pet. A good rule of thumb for tropical fish or aquatic animals is not to feed more than they can consume in five minutes. Filter out and discard any uneaten food. Keep lid closed and refrigerate after opening.
INGREDIENTS
100% black soldier fly larvae
GUARANTEED ANALYSIS
Minimum Crude Protein - 9%
Minimum Crude Fat - 2%
Maximum Crude Fiber - 4%
Minimum Calcium - 0.4%
Minimum Phosphorus - 0.09%
Maximum Moisture - 84.5%
---
We Also Recommend