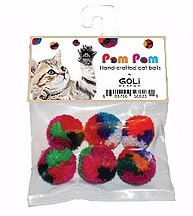 Goli Pom Pom Balls Cat Toy
Pom Pom cat balls are hand-crafted from polyester fiber.
Individually hand-crafted, they are colorful, durable, soft and great for hours of play!
Pom Pom balls come in a single size, measure 1" in diameter.
Infused with organic catnip to entice your cat's sense of smell!
ISO order consists of 72 balls and a free counter top display.
Available in bulk order of 36 balls.
Also available in a packaged set of 6.
---
We Also Recommend