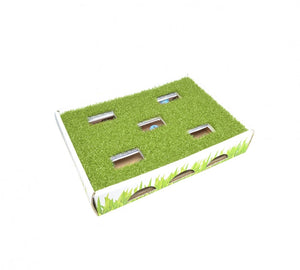 Petstages Grass Patch Hunting Box
The Grass Patch Hunting Box by Petstages combines hunting fun with a touch of nature. The faux grass material will tempt your kitty to sniff and paw at the perfectly sized holes as they practice their hunting skills with the three jingle balls they find inside. This cat toy will help keep your kitty's needs met while also protecting your furniture from any destructive behavior. Great for households with one or more cats!
NATURE-INSPIRED HUNTING FUN: Made from lightweight cardboard and faux grass, this cat toy is designed to stimulate your kitty's natural instincts to hunt and play!
ENCOURAGES POSITIVE PLAY: The Grass Patch Hunting Box comes with 3 jingle balls that your kitty will love to bat, paw, and chase! This toy will help keep your kitty active and mentally-engaged redirecting bad behavior.
DOUBLES AS A NAP SPOT: The cozy faux grass top of this fun cat toy is the ideal place for your cat to rest before beginning another round of ball batting.
GREAT FOR ONE OR MORE CATS: With multiple paw-sized openings for swiping at the rolling balls inside, this Grass Patch Hunting Box is perfect for families with one or more cats!
PLAY IT SAFE: No toy is indestructible. Do not leave toys with unsupervised pets. Remove and replace toy if damaged.
---
We Also Recommend