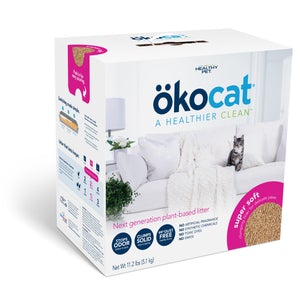 Super Soft Clumping Wood Cat Litter
Purrrfect for cats with sensitive paws or even kittens. Its super soft texture is similar to clay, so transitioning your cat to a cleaner & healthier natural choice is a snap.
Make the choice to switch to a superior natural litter that's cleaner and healthier for your cat, family and home. Made entirely from sustainably sourced, responsibly rescued natural wood fiber, ökocat® offers the brilliance of European engineering for a better performing litter.

7 Day Odor Control
STOPS ODOR – Wood fiber naturally prevents enzymes from bonding with liquid & waste to stop the creation of ammonia & odor.

10
CLUMPS SOLID – Precision-cut fiber absorbs liquid on contact to form solid clumps for easy scooping & cleaning.

No Airborne Dust
99% DUST FREE – Clean wood fiber is screened & de-dusted for a cleaner pour. No dirty clay dust.

Biodegradable and Flushable
Biodegradable and Flushable* – Degrades quickly and cleanly unlike clay litters that sit in landfills for years. Plus, it has the added convenience of being flushable. Just scoop and flush one clump at a time.

NO ARTIFICIAL FRAGRANCE | NO SYNTHETIC CHEMICALS | NO TOXIC DYES | NO GMOS

Switching made simple!

Start with a clean, empty litter box at each transition:

1 Fill half the box with ökocat and top off with your current litter for a total of 2-3".

2 Use more ökocat and top with less of your current litter.

3 When your cat is comfortable with the change, fill litter box 2-3" entirely with ökocat.
With regular scooping, litter can last up to 7 weeks.
---
We Also Recommend