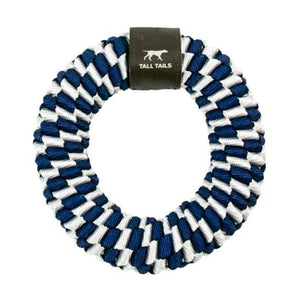 Tall Tails Navy Braided Ring Toy
Whether your pup wants to play a rousing game of fetch, tug-of-war, or bite down for a little while, the Braided Ring Toy is made with you and your pup in mind. The special bond between you and your dog is important to Tall Tails, so we designed our toys for long-lasting interactive play and exercise. Woven in two fun colors, the Braided Ring Toy's elasticity allows your pup to tug and pull for hours on end while also creating gaps to keep their teeth clean!
Wellness Beyond FoodTM
Playtime is a core pillar of your dog's overall health and wellness. We recommend making time every day for interactive play between you and your dog. Playtime together reinforces the special bond you share with your furry friend and provides your dog with the vital stimulation and exercise they need. Our Sports Toy line is designed with interactive play in mind. Made with sturdy materials, woven tightly together, to be your pup's new favorite toy to fetch, retrieve, and tug.
6" resilient braided toy
Perfect for rigorous tug-of-war, fetch, and other interactive play fun
Designed for long-lasting play and exercise
Elasticity creates gap to help dogs keep their teeth clean
---
We Also Recommend