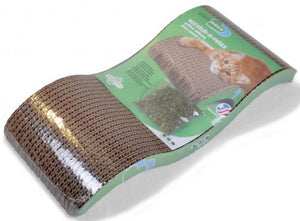 Van Ness Scratch and Relax Cat Scratch Pad
Give your cat a way to relieve her natural instinct to scratch (and a way to get some exercise) without destroying your furniture by providing her with a Van Ness Scratch 'N Relax corrugated scratch pad.

The Van Ness Scratch 'N Relax cat scratch pad is made from 100% recycled corrugated cardboard and doubles as a cat lounger. Our premium quality scratch pad includes 0.5 ounces of Quality Assurance International (QAI) Certified Organic Fresh Nip catnip and is sure to become the centerpiece of one of your cat's favorite activities as well as the perfect place for a nap.
---
We Also Recommend